About Our Dental Practice In Gainesville
"Dr. Dixon and his staff are first class. I'm very confident that I'm getting the best dental care possible. I've been a patient since 1988 and have always been super impressed with Dr. Dixon's technical skills. He's performed several procedures on my teeth (crowns, etc.) and I've never has any issues. I also know that Dr. Dixon makes the extra effort to regularly attend continuing education seminars to stay current. He regularly updates his equipment, maintaining a state of the art practice. I'm a huge fan!"

~ J. Johnson
Hello, I am Dr. Brad Dixon. Welcome to our dental office. In 1984, I set out to develop a practice dedicated to providing an atmosphere where compassion, professionalism, and service merge seamlessly. I have put together a dental team that shares that philosophy. Together we make excellence in dentistry a reality for patients of all ages.
Brad Dixon, DMD. Where Comfort, Experience and Technology Meet
We provide a comprehensive range of dentistry services combining technology with a warm, family feel, and good humor. We value each patient, know you by name, and really care about your health and happiness.

In our office, you'll find patient comfort to be a top priority. We've made the investment in training, equipment, and furnishings to ensure that you have the gentlest, most pleasant dental experience possible. You may not take particular notice of the inviting chairs, blankets, warm towels, exam room televisions, chair-side computers, or complimentary lip balm and samples, but you'll be imbued with an overall sense of assurance in our care.
We respect your time with punctual appointment scheduling for your convenience. We also offer sedation dentistry for anxious patients or to help time pass more quickly for those who need extensive work.
Comprehensive Dental Care In Gainesville
Our focus is on preventive care. We would rather help you maintain a healthy mouth than treat problems after you have had inconvenience, discomfort, and additional expense as they advance. This belief is illustrated in our commitment to patient education and state-of-the-art diagnostic technologies.

When restorative care is needed, you can count on us for the gentlest, least-invasive techniques available. We treat you as a person, not just your teeth, with services extending far beyond fillings and extractions – to dental implants, gum care, anti-snoring appliances, and treatment for headaches and jaw pain.

With our extensive training and experience in modern cosmetic dentistry, you can attain the smile of your dreams. Whitening, porcelain veneers, tooth-colored fillings, and dentures keep your smile functional and truly appealing. You'll enjoy natural confidence in all of your business and social interactions that comes from knowing you look terrific.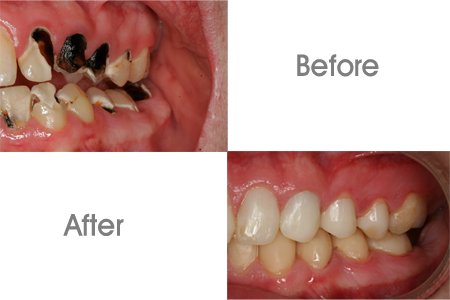 ---
Contact Us To Speak With A Dentist In Gainesville Today!

Aggregate Review Score:





5 Stars - wish there was a higher rating to choose.
- Joe J
This was the best experience I've ever had at a dentist office.
- K Major
I could not be happier with my dentist!
- Shasta Gundlach
---
Get Started
When you visit our office, it is all about you – your comfort, your health, and your beautiful smile. Contact us today to become a patient at Brad Dixon, DMD.