Oral & IV Sedation Dentistry In Gainesville
"I originally became interested in Dr. Dixon because of his sedation dentistry. I also wanted a dentist who was current with new methods in dental care. I have found that Dr. Dixon is on the leading edge of dental care and is very concerned with the comfort and care he gives each patient."

MJ Taylor
What is Oral & IV Sedation Dentistry In Gainesville?
Sedation dentistry involves safe medicines and therapies that help patients relax and enjoy their dental experience. Dr. Dixon has been a leading-edge oral sedation dentist in Gainesville, Georgia for years. He utilizes three proven methods of dental sedation: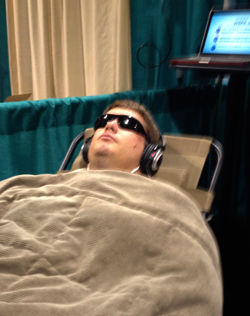 Who Would Need Oral Sedation Dentistry?
Dental sedation is perfect for patients who experience anxiety during any type of dental treatment. The calming effect of the sedation treatment allows patients to feel carefree during procedures. Depending on the level of treatment, some patients don't even remember their visit afterward.
Sedation dentistry is not exclusively for those who experience anxiety about dental treatment. Patients needing extensive dental work may also benefit from the soothing effects of sedation techniques. Regardless of the method, our staff carefully monitors your condition throughout treatment, allowing Dr. Dixon to focus on completing necessary dental procedures efficiently and effectively.
Which Method of Sedation Dentistry is Best for Me?
Schedule an appointment with Dr. Dixon for consultation on the best method of sedation dentistry for you. Together you will discuss your dental goals, the procedure to be performed and which of the three techniques is best for your situation, if any. We will answer any questions you have about sedation dentistry.
---
Dr. Dixon: An Oral Sedation Dentist In Gainesville You Can Trust

Aggregate Review Score:





5 Stars - wish there was a higher rating to choose.
- Joe J
This was the best experience I've ever had at a dentist office.
- K Major
I could not be happier with my dentist!
- Shasta Gundlach
---
Get Started With Oral Sedation Dentistry In Gainesville Today!
Contact us today to learn how sedation dentistry can help your dental procedure be a comfortable experience.