Gainesville Porcelain Veneers
"The visit was tailored to my specific needs and healthcare wishes. I was treated with dignity and respect and a good dose of fun! That combination will make any unavoidable, unpleasant treatment necessity much easier to handle. Thanks, Dr. Dixon!"
Dr. Brad Dixon has decades of experience in Gainesville, Georgia using advanced dental technology to give patients beautiful, confident smiles with porcelain veneers. In addition to dental veneers, Dr. Dixon offers comprehensive dental services in a warm, family environment. Contact us today to learn more about how he can help you get the beautiful smile you deserve.
What are Porcelain Veneers?
A veneer is a thin covering of white luminous porcelain which is shaped and cemented to the front surface of a tooth. Porcelain veneers are a true breakthrough in cosmetic dentistry, able to efficiently and conservatively correct many aesthetic issues.
Why Would I Need Porcelain Veneers?
Porcelain veneers are a great solution for a number of cosmetic problems:
Stubborn discoloration that does not respond to whitening. A veneer can be applied to a single tooth to match the others beautifully, or veneers may be used on all the teeth that show when you smile, to brighten your look dramatically.
Gaps between teeth and other minor misalignment. We call this "instant orthodontics," since no braces are required.
Poorly shaped teeth. Veneers can be used to improve contour, outline, and length of teeth.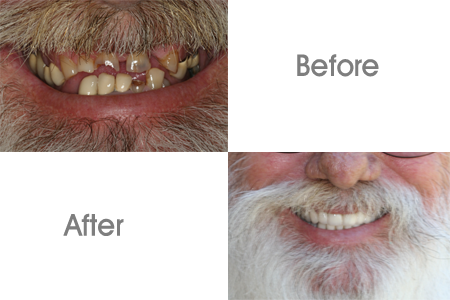 How are Porcelain Veneers Installed?
When properly applied by an experienced dentist like Dr. Dixon, veneers can easily last ten years or more. Cosmetic veneers make it easy to give your smile attractive symmetry and youthful whiteness, and are often part of a larger smile enhancement plan involving other cosmetic dentistry techniques.
After a consultation to understand what you like and do not like about your smile, you are scheduled for a thorough examination and professional cleaning. We take care of necessary restorative work (such as fillings), and we may recommend a whitening program.
At this point, the teeth to be veneered are "prepped." This consists of removing a minute amount of enamel from the front surfaces to allow the veneers to bond securely and look natural. In some cases low- or no-prep veneers can be completed without this step.
We take digital impressions of your mouth with an iTero scanner and provide that precise information along with your shading preference to a dental laboratory. While the lab is fabricating your permanent veneers, we apply resin temporaries to protect your teeth and let you "test drive" your new look.
You return in about two weeks so that we may remove the interim veneers and apply your lovely new porcelain ones. With just a little finish work and polishing, you are ready to show off your gorgeous new smile.
To keep your veneers looking terrific for a long time, brush after eating as you would normally, with a bit of extra attention at the margin (where the veneers meet your gum line). Floss nightly, and maintain regular check-ups. Avoid biting directly into very hard foods, and talk with Dr. Dixon about wearing a night guard if you tend to clench or grind.
---
Dr. Dixon: A Porcelain Veneer Dentist In Gainesville

Aggregate Review Score:





5 Stars - wish there was a higher rating to choose.
- Joe J
This was the best experience I've ever had at a dentist office.
- K Major
I could not be happier with my dentist!
- Shasta Gundlach
---
How Do I Get Started?
Veneers can change the way you feel about your smile. You'll find yourself using it more often, confident that you are making a great impression with straight, white teeth.
Dr. Dixon and his staff are known for their friendly, welcoming office and exceptional patient care. Take a look at patient testimonials to see what people are saying about. Schedule an appointment with Dr. Dixon to get started, or contact us today to learn more about our dental veneer options!