Dentistry Crowns And Bridges In Gainesville
"Dr. Dixon and his staff are first class. I'm very confident that I'm getting the best dental care possible. I've been a patient since 1988 and have always been super impressed with Dr. Dixon's technical skills. He's performed several procedures on my teeth (crowns, etc.) and I've never has any issues. I also know that Dr. Dixon makes the extra effort to regularly attend continuing education seminars to stay current. He regularly updates his equipment, maintaining a state of the art practice. I'm a huge fan!"

J Johnson
What are Dental Crowns and Dental Bridges?
Dental crowns and bridges are put in place through restorative dental techniques that provide different solutions to dental health problems. Despite their differences, they are often discussed together because the procedures are virtually identical.
Dental Crown
A dental crown is a tooth-shaped cap that is used to cover all visible surfaces of a misshapen or damaged tooth. Dr. Brad Dixon, a leading dentist in Gainesville, Georgia, uses crowns made of zirconia or e-max, both of which are strong restorative materials suitable for restorations in nearly any location in the mouth. Crowns may be an ideal solution for you if you have a damaged tooth that cannot be easily restored with fillings or dental bonding.
Dental Bridge
A dental bridge is a beautifully natural prosthetic tooth that is held in the gap left by a missing tooth. The bridge is bonded in position by crowns placed on the teeth on either side of the new false tooth. Dental bridges can be used to replace a single missing tooth or up to three in a row.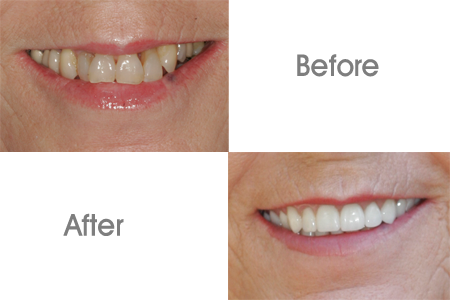 When Do I Need Dental Crowns?
Crowns are used to improve the appearance of your smile and the overall health of your teeth. A crown is placed over a tooth in the following situations:
Congenitally misshapen teeth
Tooth decay
Damage from trauma
Wear from bruxism (excessive clenching and grinding)
A Failed filling
Severe discoloration
Dr. Dixon will examine the condition of the teeth in question and discuss your options to determine the best solution for your dental health and financial situation.
When Do I Need Dental Bridges?
Dental bridges are used to replace missing teeth. If a missing tooth goes un-replaced, the other teeth may shift out of alignment, causing further dental damage. Misaligned teeth can impair the appearance of your smile, the clarity of your speech and your ability to chew food. Crooked teeth also become difficult to clean, leading to a higher risk of tooth decay and gum disease.
If you have a missing tooth, Dr. Dixon will assess your dental situation and decide whether a bridge is a right solution for you. In many cases, a dental implant may be a better solution, but not every patient is a good candidate for implants
Advanced Dentistry Crowns and Bridges Procedures In Gainesville
After consulting with Dr. Dixon and deciding that a dental crown or bridge is the best solution for you, he will begin by prepping the tooth. He removes areas of decay or damage and reshapes the remaining structure to hold the crown.
Using a state-of-the-art, highly accurate digital system, he designs digital impressions. By working with advanced digital technology, Dr. Dixon removes the need for uncomfortable molds made from messy rubber material that can cause a gag reflex in patients. These 3D models of your personalized crown or bridge are then fabricated in a dental laboratory. In the meantime, you will be wearing a temporary crown.
We Are with You Until The End Of The Entire Procedure!
When your crown or bridge is ready, you will return to Dr. Dixon's office to have the temporary solution removed and the new crown or bridge will be bonded into place. Dr. Dixon uses zirconia or e-max materials for the most beautiful, natural-looking crown or bridge. These materials closely resemble natural tooth enamel and can be aesthetically colored to match your teeth.
---
Dr. Dixon: A Crowns And Bridge Dentist You Can Trust

Aggregate Review Score:





5 Stars - wish there was a higher rating to choose.
- Joe J
This was the best experience I've ever had at a dentist office.
- K Major
I could not be happier with my dentist!
- Shasta Gundlach
---
Take the Next Step
Dr. Dixon has been on the leading edge of dental technology since 1984 to ensure that he delivers the best quality crowns and bridges possible while providing a comfortable experience for patients in Gainesville, Georgia. If you have a damaged or missing tooth and want to learn more about your restorative options, contact Dr. Dixon or schedule an appointment!