Affordable Dental Implants In Gainesville
A Complete Guide To Affordable Dental Implants In Gainesville
Choose a topic to jump to that information:
Patients in Gainesville, Flowery Branch and the North Georgia area are turning to dental implants to replace missing teeth.
Implants are often the best solution for teeth that were lost to trauma, disease or extraction. With a 98+ percent success rate, dental implants are safe, long-lasting and natural-looking.
If you want to improve the appearance of your smile and restore basic oral functionality like chewing and speaking, contact Dr. Dixon to start your consultation, or read on to learn more.
"I could not be happier with my dentist! It is such a warm and welcoming environment that for the first time I actually look forward to going to the dentist!"

S.G. Gainesville, GA
Dental implants are currently dentistry's best and longest-lasting solution to missing teeth and slipping dentures. An implant is a tiny screw made of biocompatible titanium that replaces the root of a missing tooth.
The implants reside in the jawbone to mimic the roots of teeth. They are used to hold natural-looking crowns, or to stabilize dentures. The specialized titanium implants that Dr. Dixon provides for his patients can last a lifetime with proper care.
A single dental implant can replace an individual tooth, or multiple implants can support a dental bridge spanning several missing teeth.
Dental implants can also dramatically improve the fit and function of partial or full dentures. Implant-secured dentures don't slip or pop out unexpectedly, allowing denture wearers to eat well, and smile and speak with confidence.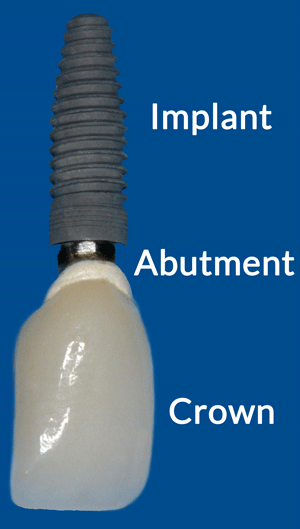 Crooked, damaged or missing teeth can contribute to gum disease, bite problems and uneven wear. These issues affect your overall health and confidence in your smile.
Dental implants are a modern solution for replacing those teeth, improving your dental health and giving you a beautiful smile.
You only see approximately a third of a natural tooth. The remainder, the root, goes deep into your jawbone to keep the tooth stable.
A dental implant is a tiny screw made of titanium. This strong metal is lightweight and biocompatible (meaning the body does not reject it). Orthopedic surgeons have used the material for many years for knee and hip replacement.
A titanium dental implant replaces the root of a missing tooth, acting as a base for a dental restoration and providing vital stimulation to keep jawbone strong.
A natural tooth has a root that reaches well into the jawbone. The root serves two important purposes. First, it helps to hold the tooth firmly in place so you can bite and chew. Second, the root provides vital stimulation to keep jawbone strong and dense.
The implant is precisely placed into the jawbone in a brief procedure requiring only a small incision in the gum tissue.
Through a natural process called osseointegration bone gradually fuses with the implant. That creates a solid foundation for your new tooth – a lustrous porcelain crown.
If you have lost your teeth or need to have them extracted for the good of your overall health, Dr. Dixon offers several dental implant options to make the transition easier:
Just a few dental implants hold a denture in place with a dramatically improved level of security.
Implants are placed into the jawbone in a brief surgical procedure. The small incision heals in a day or two, and over the course of several months bone fuses solidly with the implant.
Meanwhile Dr. Dixon designs a beautiful new smile with great fit and special clips on the inside of the denture arches.
Attachment posts are added to the implants and your new dentures snap into place. If your existing dentures fit well, Dr. Dixon may be able to retrofit them with necessary attachment points.
More About Implant-Supported Dentures
Mini dental implants (MDIs) are smaller in diameter and precisely designed so that bone fuses with them very quickly.
They may be "loaded" with a denture immediately upon placement.
Dr. Dixon prepares the denture in advance. Then he extracts teeth, places the implants, and attaches the dentures right away.
You don't have to go a day without a good looking smile, and you are able to eat a fairly normal diet soon after. Denture fit can be adjusted after your mouth fully heals. These implant-supported dentures are also removable for good oral hygiene.
Some patients simply don't want to wear dentures. They want full upper and lower arches that look, feel, and function just like natural teeth. Are you one of them?
Dr. Dixon will work with you to develop a full dental implantation plan – all at once or phased in – with a lustrous porcelain crown to replicate each missing tooth.
This method doesn't fit every budget or schedule, but it is the most permanent means of tooth replacement currently available.
More About Full Mouth Dental Implants
There are many advantages to replacing the entire tooth (crown and root) using dental implants, including the following:
A natural-looking solution:
Of course, appearance is a huge benefit. Correctly designed and placed, a dental implant restoration is not discernable from a natural tooth.
Because the implant resides in the jaw bone, it provides vital stimulation to keep bone dense and strong, avoiding a caved in facial appearance.
Eat what you want:
Dentures are known for being problematic at mealtime. Even with the use of adhesives, these appliances tend to slip, making it impossible to eat certain foods. You are not likely to see a denture wearer enjoying a meal of steak and corn on the cob.
Dental implants, however, are much more stable and allow for a normal diet. Eat whatever you like!
Protect your jawbone:
After a natural tooth is lost, the bone tissue in that area begins to melt away in a process known as resorption. Over time, this can lead to changes in the appearance of your jawline, as well as increased risk of bone fracture. Implants prevent resorption by mimicking the action of tooth roots, keeping the bone healthy.
Protect your healthy teeth:
If you are missing just one tooth, it can be replaced in just a few weeks with a bridge. However, the false tooth is attached to dental crowns, which must be adhered to the adjacent teeth for support.
Crowning a tooth does require some reshaping and removal of tooth structure. That is great for a damaged tooth, as the compromised portion needs to be removed anyway, but Dr. Dixon does not like to alter healthy teeth unnecessarily. If adjacent teeth don't need to be removed or reshaped, dental implants allow you to protect your healthy teeth.
Hassle-free hygiene:

A dental implant is strong and durable. It feels natural in your mouth, and bites, chews, and withstands wear like your existing teeth. The porcelain crown is stain resistant. No special care is required. You simply brush and floss the implant restoration as you care for your other teeth.
Last a lifetime:
With good oral hygiene, a dental implant is considered a lifetime restoration, and the success rate is incredibly high (over 95 percent). The upfront cost will likely be higher than a fixed bridge or partial denture, but those alternatives have to be replaced periodically.
A dental implant is cost effective over a span of years. Plus, you don't lose time from work for re-treatment.
Value:
Though they might be initially more expensive than other, older treatment options, they hold their value due to their trusted longevity. Over the course of many years, this option will be considerably less expensive per year than dental bridges or dentures, which may require ongoing maintenance.

Patients who do not want to consider dental implants do have a few other options, including partial dentures and dental bridges. However, considering all the benefits of dental implants, many patients find that they are the ideal choice for them.
Patients who want a permanent, long-lasting restorative treatment may opt for dental implants and the beauty, strength, and confidence that they provide. Talk to Dr. Dixon to discuss the best options for you.
Compared to having no teeth, dentures are a wonderful improvement to quality of life. Patients typically adapt well to dentures that are correctly designed for comfortable fit. The problem comes from instability.
Even great fitting conventional dentures float – they are held in place only by gravity and natural suction. That reduces your ability to chew steak or a caramel candy, or bite into a crunchy apple. Nuts and granola can get under dentures, causing discomfort. Dentures may wobble, slip, or pop out when you speak, smile, laugh, or sing.
Full or partial dentures and fixed dental bridges were the original solutions for missing teeth. However, implant-supported dental restorations is the modern solution that is usually preferred.
The traditional techniques only replace the crowns (visible parts) of teeth, while an implant is placed in the jawbone to replace the tooth roots. Implants aren't right for every patient, so it is important to discuss your options with a licensed professional. Get in touch with Dr. Dixon to learn what is best for your oral health and your budget.
Despite their many advantages, some patients hesitate to consider implants for financial reasons. Although the cost varies depending on many factors, the average price difference between bridges and implants is about 33 percent, according to the New York Times.
Although implants are slightly more expensive initially, most people feel that the health and quality of life benefits are well worth the cost. However, you may be surprised to learn that patients seeking the most economical option also choose implants.
Dental bridges are usually expected to last about 10 years before they need replacement, whereas dental implants can last a lifetime, making them far more cost effective in the long term.

Although some dentists send their patients to an oral surgeon for implant placement, Dr. Dixon has the skills and technology to complete the entire process right here in our comfortable Gainesville office, allowing him to reduce costs.
Questions to Ask About the Cost of Dental Implants In Gainesville
You may see advertising for unbelievably low prices on dental implants. The affordability of a dental implant can vary, but generally the difference isn't wildly exaggerated. If you see a price that looks too good to be true, take time to delve into these questions:
Does that figure include surgery? Some dental clinics advertise only the cost of the restoration – placing a crown on top of the implant. Make sure the quoted cost covers all steps in the implant placement procedure.
How many dental professionals will be involved? Cost generally increases with each provider.
Are the implant, abutment, and crown made of top quality materials from a reputable manufacturer or dental lab?
How experienced is the dentist who will be performing treatment? What are his credentials in this area?
How many teeth need to be replaced? What are their locations?
Will sinus elevation or bone grafting be necessary for a successful implant?
Will your dental benefits, health insurance, or flexible spending plan cover all or a portion of the cost?
To discuss the costs of the dental implant procedure that is best for your particular situation, contact Dr. Dixon.
Dental implants sound new and maybe a little scary to some patients. In truth, the procedure has been in general practice since the early 1980s. In most cases it is the best substitute modern dentistry offers to replace appearance and chewing function of a missing tooth.
Dental implant restorations keep other teeth from shifting out of alignment, and they provide vital stimulation for strong jawbone. Maybe you are convinced that a dental implant is the right choice, but you are just a little worried about the procedure. Dr. Brad Dixon shares this information to ease your decision.

Getting Dental Implants:

While it is technically an oral surgery, dental implant placement is a very safe procedure with an incredibly high success rate – in excess of 98 percent! Dr. Dixon performs it in house, so you aren't referred to a stranger for the surgical step.

He begins with a thorough examination of your mouth, including detailed 3D imagery to develop a treatment plan. Surgery is relatively brief and your comfort is top priority. Oral conscious sedation, a pill to help you relax, is customary. You are settled comfortably in the chair and then the area is thoroughly numbed.

The small titanium implant is precisely placed, using a computerized surgical guide. Laser surgical placement causes minimal disruption to bone structure and soft tissues for fast healing. This ensures a predictable procedure and outcome with no surprises. Dr. Dixon uses laser surgery to hasten integration of implant into the jaw bone, and to speed healing of the small soft tissue incision.

Most patients describe the procedure as painless, and return to normal eating and oral hygiene the next day. Over the next few months, bone fuses the implant solidly in place like the root of a natural tooth. That creates a rock solid foundation for strong, lustrous zirconia or e-max crowns, or dramatically improved stability for dentures.
Meanwhile, Dr. Dixon designs your restoration – a lovely porcelain crown. It is secured onto the implant with a small post and a sturdy bonding technique, and you have a new tooth!
Getting dental implants isn't scary, but is does require a dentist with a thorough understanding of the science behind the procedure and a compassionate touch. Join the many Gainesville patients who have chosen Dr. Brad Dixon for their dental implants. Contact us to get started.
Dr. Dixon offers these tips for patients immediately following the implant surgery:
Rest:
Implant surgery is surprisingly pain-free and as a result, many patients are able to return to their normal activities immediately following the procedure. It is important to remember that some patients may be encouraged to take it easy for a few days in order to allow their mouth adequate time to recover as would be necessary with any surgery.
Rinse:
A salt-water rinse can help reduce swelling, ease discomfort, and promote faster healing. Simply add a teaspoon of salt to a glass of warm water, swirl it around in your mouth several times before spitting it out.
Consume soft foods:
In the days following your procedure, your diet should consist mainly of soft foods. Avoid foods that contain a lot of sugar that would require extra brushing, as this could irritate your mouth.
Take prescribed medications:
Dr. Dixon may prescribe an antibiotic to keep your mouth free from infection. If medication is prescribed, make sure to complete the medication as directed.
Gently clean your mouth:
It is important to keep your mouth and the implant free from bacteria. In order to do this, you will still need to brush your teeth daily. Take extra precaution to brush softly and avoid any tissue injury.
Dental implants are durable, and long lasting. Once the dental implants have healed and been restored, they become an integrated part of your mouth and require no special care. Proper oral hygiene including brushing, flossing and bi-yearly visits to Dr. Dixon will help ensure that they stay healthy.
---

Aggregate Review Score:





5 Stars - wish there was a higher rating to choose.
- Joe J
This was the best experience I've ever had at a dentist office.
- K Major
I could not be happier with my dentist!
- Shasta Gundlach
---
Why Choose Dr. Dixon For Your Dental Implant Procedure?
Dr. Dixon is a dentist in Gainesville, Georgia who uses laser and implant technologies to restore missing teeth that may have been lost from trauma or decay.
Since 1984 Dr. Brad Dixon has been helping patients of all ages love their smiles. He utilizes up-to-the-minute education and progressive technologies, combined with a gentle touch and sense of humor. As a Gainesville native, he feels a genuine affinity with his patients, fueling his desire to provide dentistry that truly makes a difference in their self-images and quality of life.
Patients come to Dr. Dixon because of his decades of professional expertise, his commitment to ongoing education and advanced technologies, and his personal connection and genuine care he has for all of his patients. See some of the life-changing stories patients have shared with us.

Experience You Can Trust
Dr. Brad Dixon has a special interest in this area of dentistry, pursing his knowledge of it to a high level. He has all of the educational background you'd expect from a licensed dentist, and well over a thousand hours of additional learning to attain Fellowship in the Academy of General Dentistry (FAGD) and the designation of Master in the Academy of General Dentistry (MAGD).
He has also participated in a number of advanced courses to learn all aspects of the dental implants procedure, and continues to hone his skills and education. Membership in an impressive list of professional organizations helps the Doctor keep his knowledge current.
As a patient seeking dental implant treatment in the Gainesville area, what do those credentials mean to you? It means you are assured of care using the latest technologies and techniques. It means the convenience of having all stages of the procedure handled by the same dentist – with a staff you've come to know and trust. It means a predictable outcome with an exceptionally high likelihood of success.
If you would like to learn more about dental implants to restore functionality and improve the appearance of your smile, schedule a consultation with Dr. Dixon today!
Contact Dr. Dixon to learn more about dental implant dentistry – today's advanced alternative for keeping your smile looking terrific and functioning well.