Dentures
"Dr. Dixon is a wonderful dentist. I have always been self conscious of my smile, because I broke my front tooth when I was in 3rd grade. Dr. Dixon created a beautiful smile and his team made the whole experience so easy. I can't speak highly enough about his work, his chair side manner and most important the end result!"

Susan Bone
Dr. Brad Dixon is a local dentist with years of experience creating natural, secure dentures for patients in Gainesville, Georgia. At Dr. Dixon's office, we truly care about the wellbeing of our patients. Take a look at some testimonials to see how Dr. Dixon has changed patients' lives.
We use advanced dental technology to fabricate beautifully natural dentures that are a perfect fit for your mouth, all in a friendly, welcoming environment.
When Do I Need Dentures?
Our goal is to help you keep your natural teeth. Unfortunately, that isn't always possible. If your teeth have been compromised by trauma, illness, gum disease, or negligent oral care, partial or full dentures may be a good alternative to restore aesthetics and function.
Dentures have come a long way since the blocky false teeth of our grandparents' days – the ones that required gooey paste to keep them from slipping. Instead of using traditional dentures that are unstable and unnatural, Dr. Dixon works with a dental laboratory to create modern, comfortable dentures.
Why Choose Dr. Dixon?
Full service denture services – Dr. Dixon is experienced in extractions and dental implant placement, as well as creating dentures. You won't have the added expense or inconvenience of being referred to a third party for any part of the process.
Natural-looking – Subtle graduations in the shading and shape of gums and teeth give you a stunning smile that looks like your own.
Facial aesthetics – Your teeth help to support the soft structures of your face. Over time, without teeth, bone is lost in the jaws, further contributing to a collapsed appearance. Well-fitting dentures provide youthful support to the face.
Comfort – Lighter weight materials and an open upper arch (with implant-supported dentures) greatly improves wear-ability.
Durability – Our dentures are made from the resilient material known as polymethylmethacrylate acrylic (PMMA). With good care, you'll get years of use from your dentures.
Stability – We use the Syncone system for removable denture stabilization. As few as two dental implants are placed; then fitted with cone-shaped posts. A receptacle attachment is embedded into the denture to slip over the post. This method reduces food traps, and lets you speak and smile confidently.
Most importantly, you are able to eat the food that you love and nourish your body, like fresh fruits and vegetables. Since the implants rest in the bone of your jaw, chewing actually stimulates bone density, helping to arrest further bone loss.
If you're looking for "immediate dentures", Dr. Dixon offers a form of denture installation using mini dental implants (MDIs), which are smaller in diameter and heal very quickly.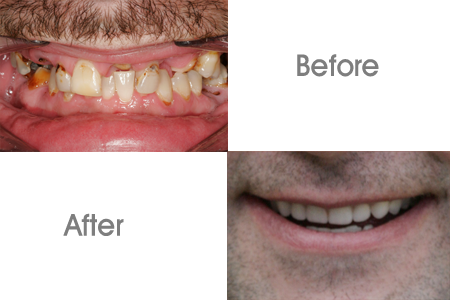 What Are My Denture Options?
If you have lost your teeth or need to have them extracted for the good of your overall health, Dr. Dixon offers several denture options to make the transition easier:
Just a few dental implants hold a denture in place with a dramatically improved level of security. Implants are placed into the jawbone in a brief surgical procedure. The small incision heals in a day or two, and over the course of several months bone fuses solidly with the implant. Meanwhile Dr. Dixon designs a beautiful new smile with great fit and special clips on the inside of the denture arches. Attachment posts are added to the implants and your new dentures snap into place. If your existing dentures fit well, Dr. Dixon may be able to retrofit them with necessary attachment points.
Mini dental implants (MDIs) are smaller in diameter and precisely designed so that bone fuses with them very quickly. They may be "loaded" with a denture immediately upon placement. Dr. Dixon prepares the denture in advance. Then he extracts teeth, places the implants, and attaches the dentures right away. You don't have to go a day without a good looking smile, and you are able to eat a fairly normal diet soon after. Denture fit can be adjusted after your mouth fully heals. These implant supported dentures are also removable for good oral hygiene.
---
Dr. Dixon: A Dentist You Can Trust

Aggregate Review Score:





5 Stars - wish there was a higher rating to choose.
- Joe J
This was the best experience I've ever had at a dentist office.
- K Major
I could not be happier with my dentist!
- Shasta Gundlach
---
How Do I Get Dentures?
Dr. Dixon offers a full suite of dental services in addition to comfortable, beautiful dentures. Contact us today to get started with your new smile, or schedule an appointment if you would like to meet for a consultation. We look forward to hearing from you!