What Types of Dental Implants are Available At Brad Dixon, DMD?
What are Dental Implants?
Dental implants offer a safe, long-lasting, naturally beautiful solution to replacing lost teeth. They can be used to replace a single tooth or multiple. The implants themselves are installed in the jaw, where they fuse with the bone and mimic the root of a natural tooth. Crowns or dentures can then be attached to the implant for a smile that looks and feels natural.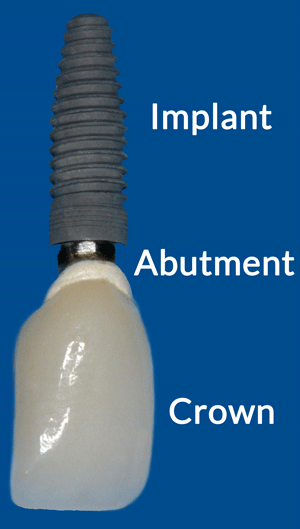 Dental Implant Options
Depending on your dental situation, there are multiple options to consider with implants:
Like standard dentures, implant-supported dentures are removable. The primary difference is that implant-supported dentures are much more secure because they are anchored to the jawbone.
The implants are installed in a brief procedure, which requires a small incision that heals in just a few days. While the implants fuse with the jawbone over the course of several months, your dentist designs a beautiful new smile custom fit for you.
Special clips allow the dentures to be attached to posts on the implants. If your existing dentures fit well, your dentist may be able to retrofit them with attachment points.
More About Implant-Supported Dentures
Compared to standard implants, mini dental implants (MDIs) are smaller in diameter and designed so that bone fuses with them very quickly, hence the name "immediate dentures". These MDIs are used to anchor removable dentures.
The end result is similar to implant-supported dentures described above, but the dentures themselves may be clipped onto the implants immediately upon placement. In contrast, typical implant-supported dentures require months for the bone to fully fuse with the implant.
You don't have to go a day without a beautiful smile, and you are able to eat a fairly regular diet soon after. Once your mouth is fully healed, denture fit can be adjusted as needed.
If you are looking for a solution that doesn't require removable dentures, you may want a full set of dental implants.
A full arch of implants completely replaces your upper and lower arches with beautiful teeth that look, feel, and function naturally. The procedure can be done all at once, or over a period of time.
This method doesn't fit every budget or schedule, but it is the most permanent means of tooth replacement currently available.
More About Full Mouth Dental Implants
Ready to learn more?
See the full guide on Dental Implants
Get Dental Implants in Gainesville, Georgia
If you would like to learn more about dental implants to restore functionality and improve the appearance of your smile, schedule a consultation with Dr. Dixon today!
Contact Dr. Dixon to learn more about dental implant dentistry – today's advanced alternative for keeping your smile looking terrific and functioning well.